Roger Coulam was born in Lincolnshire in 1965.
After secondary education in Yorkshire he studied BSc(Hons) Environmental Science at Newcastle upon Tyne Polytechnic. He began working as a photographer in 1998.
During eight years from 2000-2007 he developed a worldwide reputation as a ground-breaking photographer of severe weather, making several appearances on television and radio.
Since 2008 he has concentrated on his creative practice with his interests ranging widely in the natural and historic environment. His works are often inspired by archaeological remains and found objects, and the detail of nature and landscape.
Much of his imagery has been made using a hybrid analogue / digital workflow, often without a camera or lens. His work also includes aspects of printmaking and book making.
"My images reflect my own interests and concerns about the world, and also my place within it. I attempt to try and understand my experiences and responses by making pictures, to bring order, to look, to explore and challenge."
He lives and works in Sunderland, England.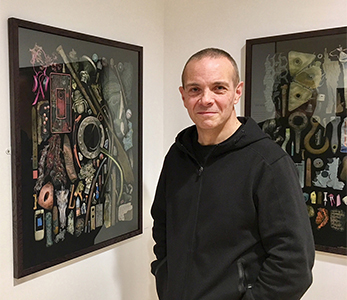 © Ian Taylor
Exhibitions
Solo Exhibitions
2018 - The Blast, The Queen's Hall Gallery, Hexham, Northumberland 
2018 - The Blast, Side Gallery, Newcastle upon Tyne, Tyne & Wear
Other Selected Exhibitions 
2022 - Postcards from Great Britain - Cambridge University
2020 - Postcards from Great Britain - Hotel Lion d'Or, Haarlem, Netherlands
2019 - Water Rising, GroundWork Gallery, King's Lynn, Norfolk
2019 - Everything I Ever Learnt, Cambridge University
2018 - Tokyo International Foto Awards, ICA Gallery, Tokyo
2016 - Bright, Atrium Gallery, St James's Institute of Oncology, Leeds
2015 - The Minds Eye, The Queen's Hall Gallery, Hexham, Northumberland
2014 - Luminis, The Watchtower Gallery, Berwick-upon-Tweed
2013 - The Social, Creative Cohesion Gallery, Sunderland
2011 - Sunderland Book Project, Washington Arts Centre, Tyne & Wear
2010 - Creative Cohesion Gallery, Sunderland
2009 - Northern Print, Newcastle upon Tyne
2008 - Northern Print, Newcastle upon Tyne
2007 - Aurora Project / Devon Arts Culture, Art Works, Newcastle upon Tyne
2007 - Washington Arts Centre, Tyne & Wear
2007 - Festival of the Photograph, Charlottesville, USA
2006 - Art Works Gallery, Newcastle upon Tyne


Press and Other Reading
Newcastle Chronicle and Journal Environment Feature 2018 
Photomonitor Interview 2018